Jason Crethar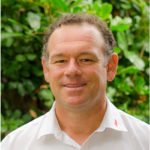 Licensed Real Estate Agent
Jason believes in listening carefully to clients' requirements and responding with marketing campaigns and sales service levels that more than meet his vendors' expectations. Put simply, he delivers what he promises to deliver and does so with the skill and expertise gained since he joined the real estate industry in 2000.
Previous success in the health and hospitality sectors complement the considerable market knowledge Jason has gained since joining Elders, and give him the grounding for his consistent and hard-working ethic.
Campaigns which are creative and tailored appropriately to the type of property concerned are a hallmark of Jason's approach. Equally, he is renowned for his quick response time to vendors' questions and highly effective "straight-talking" style.
A long-time North Coast resident, Jason loves being involved in his children's sporting activities and spending time with his young family. Regularly emceeing local charity events, he loves being connected to and supporting his community.
Jason's hands on approach and 'start to finish' philosophy has allowed him to thrive in all market conditions. His clients love his enthusiasm for his work and local knowledge – a natural edge when advising on sales strategies.
02 6687 6155
02 66876186
0422575008